J1000 8491 views
So easy to use: just switch it on and you're ready to go. J1000 is fully capable of efficient performance and energy saving, handling variable speed needs in compact applications. A drive that exemplifies true world quality with a difference you can really feel.
Compact Design
Every drive has dual rating, Normal Duty (ND) and Heavy Duty (HD). Parameter settings let the user select the rating that best suits the application needs. Selecting ND allows the drive to operate a more powerful motor an entire frame size larger than with HD. Side-by-Side installation and J1000's impressively compact design make it possible to fit the entire setup into even the narrowest enclosures.
Note : Current derating must be considered. Select a motor that has a current rating within the rated current of the drive.


How Side-by-Side Installation Works
Example: 200 V 0.75 kW
Note : If the last drive in a series is installed next to a wall, a 30 mm gap is required.
Use J1000's slender Finless Type for an even more compact installation. Options also include an easy-to-connect NEMA 1 Type 1 kit to provide the protection the drive needs.


Compact Setup in Enclosure Panel (mm)
Example :
200 V Class,
Three-Phase Input 3.7 kW (HD)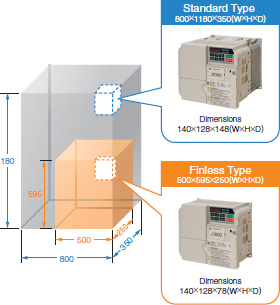 Note : As the Finless Type lacks its own heatsink, steps still need to be taken to ensure proper heat dissipation. The example above shows a drive installed to a fully-enclosed panel with an external cooling unit added to handle cooling requirements. Refer to the manual for details.
Easy Operation
The Setup Mode gives the user quick access to the basic parameters needed to get the application running right away. This feature ensures quick and easy setup once the drive is installed. The Verify Menu lists all setting that have been changed from their original default values.


Verify Menu
Parameters changed from their default values
Environmentally Friendly
J1000 is fully compliant with EU's RoHS.
J1000 uses Yaskawa's Swing PWM function to suppress electromagnetic and audible motor noise, creating a more peaceful environment.


Acoustic Noise Levels from Swing PWM vs. Conventional PWM
Note : Calculated by analyzing noise generation and comparing peak values.
Starts Heavy Loads Effortlessly
Fully automatic torque compensation across the entire speed range, whether accelerating, decelerating, or operating at constant speed. Capable of 100% rated torque as low as 1.5 Hz, and 150% at 3 Hz when set for Heavy Duty performance.
Powerful Torque
Yaskawa's Full Range, Fully Automatic Torque Compensation
The drive output voltage needed in a single application varies with changing load conditions. Yaskawa's torque compensation function automatically adjusts voltage levels to maintain the required V/f pattern during acceleration and when operating at a constant speed.
Smooth, Continuous Operation
Stall Prevention keeps the motor running smoothly. Speed Search and Momentary Power Loss Ride-Thru functions can restart a coasting motor without a motor encoder, making continuous operation possible should a transient fault occur.
Momentary Power Loss Ride-Thru
Easily restart the motor without a motor encoder.
Perfect for fan, blowers, and other rotating, fluid-type applications.
Enhanced Braking
The overexcitation braking functions enables rapid braking up to 50% faster without using a braking resistor. All models come equipped with a braking transistor for even faster stopping capabilities should the user decide to install a braking resistor.
Overexcitation Braking
∗ : Overexcitation braking for a 400 V class 3.7 kW drive without a braking resistor. Results may vary with motor and load conditions.
Loaded with Protective Features
All models come equipped with an inrush current suppression circuit, protecting the drive from unstable power conditions. Overload detection and motor thermal protection prevent damage to connected machinery, while fault restart ensures continuous production.
Hassle-Free Maintenance
wa drives have a built-in maintenance timer that keeps track of component performance, including capacitors, softcharge circuitry, IGBTs, and the cooling fan. This ensures maximum performance life of the drive.
The cooling fan is also designed for quick replacement: both detachable and easily accessible from the top of the drive.


Attaching/Detaching the Cooling Fan
Engineering tool DriveWizard Plus automatically converts parameter settings from the earlier VS mini J7 to match parameters in J1000.
Not only useful for model upgrades and transitions, but also a time-saving feature in case a drive needs to be replaced.


Model Transition
∗1 : Requires an optional interface unit.

Note : To obtain a copy of Drive Wizard Plus, contact your Yaskawa representative.
Yaskawa's USB Copy Unit is available for applications with multiple drives requiring the same parameter settings. Use the Copy Unit to load parameters from the drive at the factory and edit them later on a PC∗2. Incredibly useful for backing up parameter settings and easier than a carrying around a laptop.
∗2 : Requires an optional interface and freeware Copy Unit Manager.

To obtain a Copy Unit Manager, contact your YASKAWA representative.


Centralized Management
Note : USB Copy Unit designed to store parameters for a single drive.
Get Larger Applications Ready in No Time
Note : Data can only be transferred between drives that are the same model running the same software version.
Durability in a Wide Range of Environments
A wide range of protective features are available for harsher environments, including designs that are resistant to moisture, dust, oil, and shock.
Minimizing Power Supply Harmonics
AC and DC reactor are both available to minimize the amount of harmonic distortion in the system.
Potentiometer Option Unit (option)
speed potentiometer lets the user adjust the frequency simply by turning a dial. This optional potentiometer offers an easy way to control motor speed on the fly, without needing to access parameter settings.
Potentiometer Option Unit
LED Operator∗1(option)
The LED operator allows the user to control the drive from up to 3 meters away, saving the hassle of directly accessing the drive when mounted inside an enclosure panel.
∗1 : Requires an optional interface unit.
Using the LED Operator
View, edit, and set parameters
Read, Copy and Verify parameter settings
Run/Stop
Monitor operation status
Connecting the LED Operator
DriveWizard Plus
DriveWizard Plus makes it possible to operate the drive and perform maintenance using a PC. It has never been easier to edit parameters, access all monitors, create customized operation sequences, and observe drive performance with the oscilloscope function.
Note : To obtain a copy of Drive Wizard Plus, contact your Yaskawa representative.
Parameter Editing
View and edit drive parameters.
Oscilloscope Function
Displays operation status and drive performance in real time.
RS-422/485 Interface for MEMOBUS communication (option)
Supports the MEMOBUS/Modbus protocol.
Requires an optional interface.