New Generation Robot 8024 views
New Generation of Robots to Enrich our Future
_________________________________________________________________________________________________________________
The new dual-arm robot is designed to resemble the human figure. The robot has slim arms that are similar to a human's arms in size and with seven joints in each arm. This human-size robot enables to replace the manual work to the automate operation without changing the existing layout and facility. The coordinates operation of seven axes for each arm and one at wrist has made it possible to move efficiently with great dexterity requiring no further exclusive equipment for robots.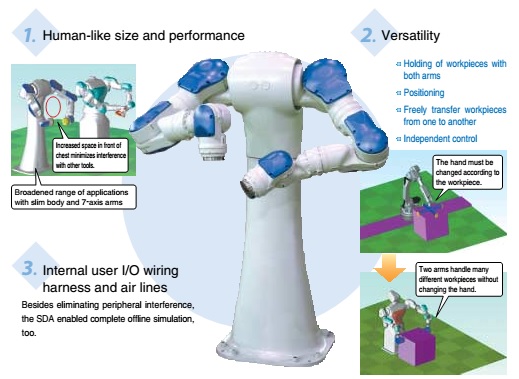 What does Dual-arm do?
New MOTOMAN design to Reduce Human Workload for better Labor Conditions & Pursuit of Human-Robot Coexistence
Improvement on Logistics process
♦ Dual arms for secure handling
♦ Continuous handling without a temporary stand or reverse jig
♦ Distributing parts for each process
Improvement on Assembling process
♦ Jigless assembly with dual arms
♦ Jigless positioning with dual arms
♦ High-accuracy assembly with high-speed, high precision movements
The SIA single-arm robot resembles a human arm. With seven joints like a human arm, the SIA robot has a highly degree of freedom and it can bend, twist, or extend itself even in narrow space. This enable a space saving, high density layout.
What does Single-arm do?
New MOTOMAN design to Reduce Human Workload for better Labor Conditions & Pursuit of Human-Robot Coexistence
Improvement on Logistics process
♦ Installation in narrow spaces between machines
♦ Reach into narrow spaces
♦ Lifting operation (from a narrow space)
Improvement on Assembling process
♦ Assembly in high-density layout robots
♦ Coordinated assembling operation of several robots without interference