GA500 1807 views
Smart & Compact - The World's Smallest Class, Top Performance Drive
Based on the concepts of versatility, ease of use, and stability, the GA500 new drive series was created to be the smallest in its class, provide innovative permanent magnet motor control and ensure continual operation of customer machinery and equipment.
Backed by leading performance in the compact model class, the GA500 can help customer machinery and equipment achieve unprecedented evolution.
Maximize the Performance of Your Machine
Stable Drive for High-impact Loads
The GA500 uses Yaskawa's unique sensorless PM motor control technology to detect the magnetic pole position of the PM motor and operates at an output of zero speed/100% torque.
590 Hz! Highest of the Industry*1
Achieving high-speed operation with a maximum output frequency of 590 Hz*2 with induction motors and PM motors, machines can be made more compact and efficient as gears and belts do not need to be used with motors.
*1: According to Yaskawa's research (as of September 2018)
*2: Output frequency is 590 Hz after review of Export Control Order.
Continuous Operation of Machinery and Equipment
Predict Potential Failures of Machinery Using Drives*
The GA500 helps users build machinery and production lines for continuous operation. The drive detects and informs users about unusual operations in machinery and equipment.
Predict Drive Service Life*
The GA500 monitors deterioration of built-in, limited lifetime service parts in real time and notifies users about replacement timing.
Longer Motor Service Life
The GA500 prevents the phenomenon of a reduction in the magnetic force (irreversible demagnetization), which requires replacement with a PM motor, and helps reduce downtime.

*: Refer to "Predict Potential Failures with Yaskawa's Drives" for details.
Improve Production Management with IoT
Monitors Machine Conditions in Real Time while the Drive is in Operation
Extracted data
・Motor speed, Frequency
・Power consumption
・Load current
・Torque
・Motor voltage etc.
Connect to Various Host Controllers
The GA500 supports a variety of industrial networks in Japan and around the world, including MECHATROLINK, for connectivity to various host controllers.
Note:
DeviceNet is a trademark of Open DeviceNet Vendor Association, Inc. (ODVA).
EtherCAT is a trademark of Beckhoff Automation GmbH.
PROFIBUS is a trademark of PROFIBUS Nutzerorganisation e.V.
*Communication options required
High-speed Scanning to Analyze Detailed Behavior
Monitored data (current, power consumption, torque, etc.) from the drive can be stored to a microSD card at high speed to be used in for detailed data analysis and investigation of factors when a problem occurs.
Reduce Machinery and Control Panel Footprint
The World's Smallest Drive for Smaller Machinery
Reduced Number of Parts
The network protocol for industrial use has been converted to RS-485 to enable control of up to five drives from a single communication option.
Smaller Control Panel with Integrated Peripheral Device Functions
Easy Maintenance
Tuning Possible with Machinery Installed
Easy tuning can be performed even on motors manufactured overseas and motors without information on performance or status with connected machinery to ensure high-performance driving.
Significant Reduction in Wiring
Easily Switch between Voltage and Current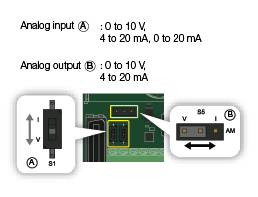 Controllers with 24-V Common Method Supported
You can switch between the Sinking mode (NPN) and Sourcing mode (PNP) on the multifunction digital input terminals and between internal and external power supply.
Wiring Reduction
Virtual I/O function can reduce external wiring. This function virtually wires the I/O terminal of the drive internally without actual wires.
Use of European Terminals for Easy Wiring
Significant reduction in work hours because crimp terminal and crimping operation are now obsolete.
Closed-Door Operations and Monitoring*1
By installing an LED keypad on the surface of the control panel, you can operate and monitor the drive installed inside the panel without having to open a door.
*1: Requires compact Keypad Panel Mounting Kit (optional)
Intuitive operation keys
Status display visible from a distance
Monitor Performance Life
Quick Response
You can perform recovery work and confirm malfunctions without applying main circuit power.

Less Downtime
There is no need to reprogram and rewire the replacement drive in the event of failure. Simply replace the control board to instantly and securely replace the drive. You can select various parameter backup methods.
Standard keypad: Stores the parameters of a single drive
Optional LCD keypad: Stores the parameters of up to four drives