∑-7 Series 17321 views
Created with the design concept of "seven ultimate e-motional solutions," the Σ-7 series delivers the world's highest performance while providing other features such as further improvements in safety and an environmentally friendly design to meet the changing needs of its users. This series offers solutions that are guaranteed to satisfy users in all kinds of scenarios in the life-cycle of systems.
Ultimate system performance
The high-performance of Σ-7 SERVOPACKs translates into ultra-high-speed and ultra-high-accuracy control, which maximizes system performance.
Σ-7S Single-axis SERVOPACKs
3.1 kHz response frequency

Optimized for specific applications: New models in EX and FT series to be released

Improved vibration suppression
Ripple compensation
Σ-7 SERVOPACKs can reduce speed ripples caused by motor cogging, even for machines for which speed loop gains cannot be set high. This ensures smooth operation.
Enhanced vibration suppression function
Notch filter
Suppresses high-frequency vibrations of 500 Hz or higher.


⇒Number of filters increased from 2 to 5.

Anti-resonance control adjustment
Suppresses vibrations at frequencies ranging from several hundred Hz to 1 kHz.


⇒Vibrations can now be suppressed at two different frequencies (in comparison with one frequency in earlier models).

Vibration suppression
Suppresses vibrations at low frequencies (30 Hz and lower).


⇒Vibrations can now be suppressed at two different frequencies (in comparison with one frequency in earlier models).
These functions can be adjusted automatically using the autotuning function.
Σ-7W 2-axis SERVOPACKs
2-axis SERVOPACKs (200 W × 2 axes to 1 kW × 2 axes)

3.1 kHz response frequency

Improved vibration suppression
Σ-7 Servomotors
Compact dimensions (approx. 80% smaller than our earlier models.)

High-resolution 24-bit encoder incorporated (16,777,216 pulses/rev)

Maximum torque: 350% (small capacity)
High-resolution, 24-bit encoder
Σ-7 Servomotors (50 W or greater) use encoders with a resolution that are 16 times higher than those used in Σ-V Servomotors.
High efficiency and low heat generation
Σ-7 Servomotors use an optimized magnetic circuit that improves motor efficiency and reduces heat generation.
(comparison with typical models.)
Ultimately ease to use
Yaskawa's original tuning-less function has undergone further development.
Stable operations can be achieved without having to adjust gains.
No need to adjust servo gains
With Yaskawa's original tuning-less function, systems can run without vibration for a load with 30 times (max.) of load moment of inertia. Systems remain stable even with load changes during operation.
Σ-V Series
Σ-7 Series
Allowable load moment of inertia ratio
30 times (max.)
30 times (max.)
Max. control gain
Speed loop gain
40 Hz (approx.)
Speed loop gain


70 Hz (approx.)
When the allowable load moment of inertia ratio is 30 times:
Ultimate environmental performance
The Σ-7 Servo Drives can be used in harsh environments and conserve energy.
Optimal systems can be easily set up in different countries and under a variety of conditions.
Satisfies specifications for use overseas and in harsh operating conditions
240 VAC supply voltage also supported

High-altitude use increased to 2,000 meters above sea level∗

Maximum ambient temperature raised to 60?∗
∗ : Derating required.
Waterproof protective structure upgrade to IP67 rating
?SGM7A (IP22 for 7.0 kW), SGM7J and SGM7G models?
Protective Structure (IEC 144, 529, DIN40050, JEM1030)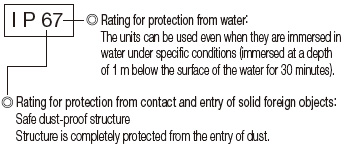 Ultimate safety and security
Systems can be operated safely because the Σ-7 Servo Drives comply with safety standards and safety is ensured by monitoring.
Satisfies requirements of the SIL 3 of the IEC 61508 functional safety standards∗ (first in Japan) ∗: Certification scheduled for April 2014
Certification will make it easier to set up systems that conform to safety standards for press machines and other systems in Europe and other regions. Certification also helps reduce the number of hours required for wiring and of peripheral devices.
Complies with Stop Category 0 (Safe Torque Off)
Safety standards
Performance level & category
Safety of machinery
EN ISO13849-1
PLe (CAT3)
IEC 60204-1
Stop Category 0
Functional safety
IEC 61508
SIL 3
IEC 62061
SIL CL3
IEC 61800-5-2
STO
The safety function works even for a single problem.
The safety function is enhanced with compliance with the EN ISO 13849-1 PLe
(performance level e).


| | |
| --- | --- |
| Note : | Although the safety performance level of the Σ-V series Servo Drives is PLd (performance level d), the benefits described in the figure on the left apply. |
Protect systems from high temperatures
Σ-7 SERVOPACKs and Servomotors are equipped with temperature sensors that can directly monitor temperatures of machines and detect abnormalities to prevent failures. Real-time temperatures can be viewed on a display by using Machine Controllers.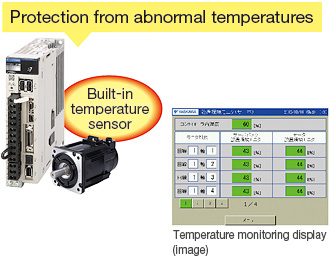 Ultimate support
Cloud-based storage of product data facilitates data retrieval when needed.
Maintenance throughout a product's service life is improved and simplified with SigmaTouch!∗, Yaskawa's smartphone application.
∗ : Starts in spring 2014
Single or multiple orders possible after specifying parameters
Customers can now place single or multiple orders for SERVOPACKs in the Σ-7 series after specifying parameters at the factory shipment stage. No longer is it necessary to write the parameters at the system assembly site, which means that production lead times can be reduced.
Product management and maintenance service
Manufacturing information of each product can be easily viewed by using SigmaTouch!, Yaskawa's smartphone application. To view, simply hold your smartphone over the QR code of the product.
With SigmaTouch!, you can access the serial numbers of products installed in systems, and manage the information in the MechatroCloud on a system-by-system basis.
SigmaWin+ supports MechatroCloud.
After a product has been adjusted, its parameters, trace data, and other information can be kept in the MechatroCloud on a system-by-system basis.
Features
Simply access the MechatroCloud service∗ and hold your smartphone over the QR code of the product. You can access the product data stored in the MechatroCloud, and view the manual for that product.
Note: MechatroCloud is a new cloud service provided by the Yaskawa Electric.
Improve troubleshooting
If you have a smartphone, troubleshooting information can be accessed by reading a product's QR code.
Automatic tracing is possible when a SERVOPACK alarm occurs. This allows you to detect and solve problems promptly.
Planned maintenance now available by monitoring the operational status
The service life of the maintenance can be estimated, and the users are notified when the parts should be replaced. System failure can be prevented because parts can be replaced before products break.
Display for total hours of use and remaining service life (image)