Drives Synchronous Motors
When a motor rotates, it consumes energy. When a motor is rotated, it generates energy. You can save energy by using regenerative energy instead of wasting it.
All types of motors can be controlled, including induction motors and IPM/SPM synchronous motors, without using sensors.
Wide Product Lineup
We've increased the number of 200-V-class models from 4 to 10 and the number of 400-V-class models from 7 to 23.
Improved Power Factor
The high power factor allows you to reduce the power supply capacity.


Compliance with SIL3 Safety Standard
SIL3 compliance eliminates the need for magnetic contactors (MCs).
High-speed Operation!
Output frequencies are supported up to 400 Hz.
Solve Noise Problems!
Models are available with built-in EMC noise filters to reduce noise generated by AC drives.∗
∗ Be sure to use a stand-alone EMC filter for models
CIMR-U*4*0477 to 4*0930.
Commercial Power Switching
Switching to and from commercial power is possible without phase detectors, contactors, and other such peripheral devices.
Note V/f control without a PG must be used.
Maintenance Even during Power Interruptions!
A built-in 24-V power supply unit lets you check parameters even when the main circuit power supply is OFF.
Precise Operation!
A speed response of 250 Hz∗ enables rapid following of AC drive frequency references.
∗ Closed-loop vector control, Closed-loop vector control for PM
Cutting-Edge Torque Characteristics
• Powerful torque at 0 Hz even without the use of a motor encoder.
Powerful torque at 0 Hz even without the use of a motor encoder. Achieve even more powerful starting torque at zero speed with an IPM motor.
∗ No speed sensors or pole sensors required.

∗1 Achieving this torque output requires a larger capacity models.
∗2 Contact your Yaskawa or nearest agent when using PM motors except SSR1 series or SST4 series motors manufactured by Yaskawa Motor Co., Ltd
• High-performance current vector control achieves powerful starting torque with an induction motor.

Environmental Features
• Protective Design
A variety of protective designs are available to reinforce the drive against moisture, dust, oil mist, vibration, corrosive sulfur gas, conductive particles, and other harsh environments.
• RoHS
All standard products are fully compliant with the EU's RoHS directive.
Models with built-in EMC filters are available
Be sure to use a stand-alone EMC filter for models
CIMR-U*4*0477 to 4*0930.
Models with built-in 24-V power supply units are available
Safety
• Safety Regulations
The products comply with ISO/EN13849-1 Cat.3 Ple and IEC/EN61508 SIL3 (two safety inputs and one EDM output).
An External Device Monitor (EDM) function has also been added to monitor the safety status of the drive.
Compliance with SIL3 decreases the malfunction rates and creates a safety system.
When compliant with EN81, the number of required magnetic contactors, which has conventionally been two, can be reduced using the safety function.
Special Models for Specific Applications
Crane and elevator applications are available.
Customize Your Drive
• DriveWorksEZ visual programming tool with all models
Simply drag and drop icons to completely customize your drive.
Create special sequences and detection functions, then load them onto the drive.
• Program a customized sequence
Example : Positioning control without a motor encoder
• Create customized detection features
Example: Machine weakening analysis using torque fluctuation detection
• USB for connecting to a PC
USB port lets the drive connect to a PC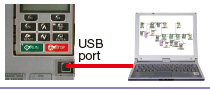 Drives are also equipped with an RJ-45 comm. port that takes
the existing WV103 cable used in Yaskawa's previous models.
Simply remove the operator keypad for to the RJ-45 connector.
Easy Maintenance
• Removable Terminal Board with a Parameter Backup Function
The terminal block's ability to save parameter setting data makes it a breeze to get the application back online in the event of a failure requiring drive replacement.
• Parameter Copy Function
All standard models are equipped with a Parameter Copy function using the keypad that allows parameter settings to be easily copied from the drive or uploaded for quick setup.
A USB Copy Unit is also available as an even faster, more convenient way to back up settings and instantly program the drive.

• Engineering Tool DriveWizard Plus
Manage the unique settings for all your drives right on your PC.
An indispensable tool for drive setup and maintenance. Edit parameters, access all monitors, create customized operation sequences, and observe drive performance with the oscilloscope function.
Comparison with Conventional Inverters